CALLING ALL VOLUNTEERS!
No matter your aspirations, talents, and passions – Bryan's House families and those served in our direct child care programs daily will benefit from your volunteer service.
Join our Jubilee Society
Click here to join! The Jubilee Society is a group of 500 members that raise a base of $25,000+ or more a year, through a simple gift of $50 per member. This distinguished group of women (and spouses/partners) will serve children impacted by HIV/AIDS in the "Heroes" program. Membership is open to all ages and there is also a service-hours component available to members. The society's founding group of 20 philanthropic and community leaders work with the membership to designate the funds raised by their efforts to the program within Bryan's House that has the greatest need.
Mighty Men's Group – Founder: Justin Collins, Ben E. Keith
Are you an entrepreneur, a traditionalist, a professional – with a strategic, creative, or compassionate heart? Connect with your cause. The Mighty Men's Group offers opportunities to work with the children we serve directly to provide fun activities, a listening ear for fathers/father figures at-risk, and struggling to cope. The group connects with high schools in Dallas to also introduce teen boys to the opportunity to provide service hours for children with specials needs or those impacted by HIV/AIDS.
Serve on our Development Committee
We welcome non-board community members to our agency to volunteer on our Development Committee. It's a great introduction to see how we work in the community at a grass-roots level. Bring innovative ideas to our cause, to help meet our mission and needs of the children we serve.  We are looking for people with amazing skills and contacts to help us raise money, give tours, and help with public relations, marketing and event planning initiatives.
Serve on our Corporate Council
Help us be a model agency in the community – mission-driven, efficient – able to provide essential quality programs that fill the service gap. We are currently recruiting Dallas-based Executives from Fortune 500 and DFW influential companies for our 10+ member council.
Role: To adapt corporate best practices to our mission. Are you skilled in Lean Process Management, IT, Corporate Real Estate, HR, Medicine, Food Industry, Law, Insurance, Banking, Consumer Product Development, or another specialty area? We need your expertise!
Members meet quarterly for two hours over lunch at a fun location in Dallas. They brainstorm ideas to address operational and systemic challenges. Some of our council members include: Gary Davis – Intel Worldwide, Terry Syler – Retail Connection, Dana Squires – UPS Freight Worldwide, Ryan McCuller – UBS; to name a few… Join us. Email aerickson@bryanshouse.org to connect.
Bryan's House Volunteer Spotlight:  Colby Garza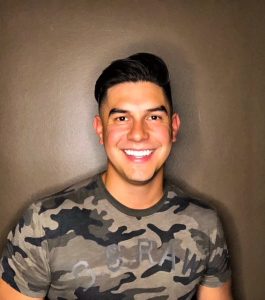 Colby Garza – Mighty Men member, volunteer and donor. President, Garza Group Real Estate & Development. Colby's inspired involvement these past twelve months has been rewarding for us and him.
"I love connecting with people who want to make a difference where they live and work. There are so many men that need a helping hand as single parents…and the kids – well…they touched my heart. Being a Mighty Men member makes me a better man. I am a strong advocate for Bryan's House."
Inspired by what you read today?
Please click the email link below to contact our volunteer coordinator, and join with like-minded people in our community to connect personally to the people you impact. Donate time, talents and treasures and you will end up being impacted for life. Feel good and do good at your own pace.
Who Can Serve?
We need adults who can commit to volunteering on a regular basis- millennials, gen-X'ers, baby boomers and seniors – all are welcome!
Or serve in traditional ways:
Donate items on our Wish List

Host a drive at your home, school, church or place of business.
Contribute or participate in our annual fundraisers and special events.

Care for our Children! Individuals or group volunteers are always needed and appreciated.  Help rock and feed babies, read or play with the children, or help with special projects and events. The opportunities are endless!
Raise Awareness! We appreciate our friends and donors who take our work at Bryan's House to heart. Through social media, our networks and word of mouth, you can share information with your family, friends, members of your community and social circles. Use the buttons below to visit our social media platforms: