The Jubilee Society is a group of women dedicated to the Bryan's House belief that "Every Child Deserves to Thrive. No Matter What".  They help us reach a larger audience through participating in special events, hosting educational events, holding donations drives and offering opportunities to work with the children directly.  Jubilee Society members serve as Bryan's House Ambassadors, helping us to reach a greater number of families in need in the greater Dallas area.
The Mighty Men's Group is committed to serving as a positive and compassionate male influence for the families and children of Bryan's House. We are fathers, sons, friends, and husbands. Our goals include engaging men to volunteer their time and to become sources of strength and mentorship for our clients. Throughout the year, we host events including membership breakfasts, Family Fun Days and BBQs.  We move furniture for clients transitioning out of poverty into new homes; arrange men's events to raise funds to serve kids with special needs, and we socialize with Jubilees at evening receptions.   We also serve as Bryan's House ambassadors, offering opportunities to work with the children directly, and helping to spread the word that every child deserves to thrive – no matter what.
Bryan's House Volunteer Spotlight: Colby Garza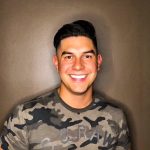 Colby Garza – Mighty Men member, volunteer and donor. President, Garza Group Real Estate & Development. Colby's inspired involvement these past twelve months has been rewarding for us and him.
"I love connecting with people who want to make a difference where they live and work. There are so many men that need a helping hand as single parents…and the kids – well…they touched my heart. Being a Mighty Men member makes me a better man. I am a strong advocate for Bryan's House."

Serve on our Development Committee
We welcome non-board community members to our agency to volunteer on our Development Committee. It's a great introduction to see how we work in the community at a grass-roots level. Bring innovative ideas to our cause, to help meet our mission and needs of the children we serve. We are looking for people with amazing skills and contacts to help us raise money, give tours, and help with public relations, marketing and event planning initiatives.
Serve in traditional ways
Donate items on our Wish List
Host a drive at your home, school, church or place of business.
Contribute or participate in our annual fundraisers and special events.
Care for our Children! Individuals or group volunteers are always needed and appreciated. Help rock and feed babies, read or play with the children, or help with special projects and events. The opportunities are endless!
Raise Awareness! We appreciate our friends and donors who take our work at Bryan's House to heart. Through social media, our networks and word of mouth, you can share information with your family, friends, members of your community and social circles.
Serve on Luncheon Committee
Kitchen Helper
Front Desk/Phones
Cookies with Santa
Back to School
Family BBQ
Become a tour guide at the agency
Provide transportation for youth and mentors to Bryan's House events.  (You must have a valid driver's license and car insurance, and you must pass a Texas State background check.)
Help organize events, assist with marketing materials, and provide administrative help in our Bryan's House Office in West Dallas.
Outreach for in-kind donations of food and supplies and event sponsorship.
Prepare lunches for staff thank you event, and at our monthly in-home member meetings and help with set-up and cleanup at our retreats or other events.
Help with our annual luncheon and/or other fundraising events.
Who Can Serve?
We need adults who can commit to volunteering on a regular basis- millennials, gen-X'ers, baby boomers and seniors – all are welcome!